Click on the image to download the Switch information Catalogue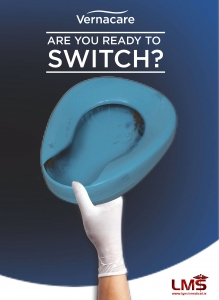 Proven Infection Prevention, via independent studies demonstrated that using the Vernacare disposable system supported a 56% reduction in C.difficile.5 Vernacare is the only company in the world that has commissioned an independent report to prove that its macerators do not produce any aerosols or contaminate any adjacent user-accessible areas.
Are you ready to SWITCH?
The importance of an effective, hygienic human waste disposal system has never been so important. Find out exactly why you should make the switch from bedpan washers…
Bedpan Washers…The Risk
A sluice room is an environment which has increased infection risks due to its continued operation of disposing of human excreta. Manually emptying and flushing plastic containers is a high-risk procedure for spreading and transmitting micro-organisms. Bedpan washers present multiple opportunities for infection to transmit between patients and staff.
Real world example of what a difference it makes when you make the SWITCH