Microlife® WatchBP® Range
Listed below are details of the range of Watch BP products supplied and distributed by Lynch Medical Supplies
Microlife® WatchBP® Products
Ambulatory blood pressure monitor with the possibility to screen for Atrial Fibrillation (Afib) during blood pressure measurement. Guidelines recommend offering patients 24-h blood pressure monitoring before starting antihypertensive treatment.
Since high blood pressure is a risk factor for developing Afib (the most common cardiac arrhythmia) screening for Afib during (24-hour) blood pressure measurement can detect many patients with (paroxysmal) Afib. For this reason Microlife decided to implement the NICE recommended patented Afib algorithm into the WatchBP O3 ambulatory blood pressure monitor.
The WatchBP O3 Afib has proven to allow detection of patients with sustained Afib and paroxysmal Afib. The latter group of Afib patients in particular are likely not to be detected at regular clinical visits.
The WatchBP Home A is a WatchBP Home device equipped with an atrial fibrillation detection system. When you are diagnosed with hypertensive and/or having atrial fibrillation the WatchBP Home A(fib) is the best tool to optimize your treatment.
When you have atrial fibrillation a physician can decide to prescribe you anti-arrhythmic drugs. These drugs should stop the atrial fibrillation.
With the WatchBP home A you can easily verify the working of these drugs, while at the same time monitoring your blood pressure.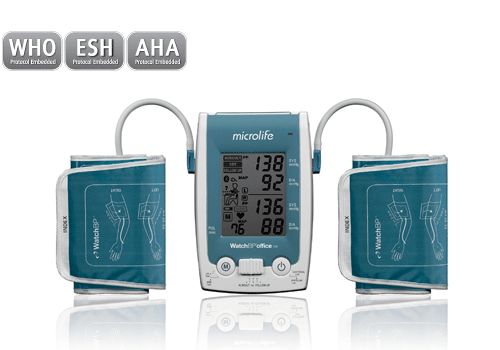 Dual-cuff blood pressure (BP) measurement and atrial fibrillation (AFIB) detection with built-in auscultatory measurement function.
Dual-cuff design for convenient, simultaneous measurements of Inter-arm difference (IAD)
One Touch for detecting BP value and AFIB condition
WatchBP Office Afib screens Afib with high accuracy at 97% – 100% Sensitivity and 89% Specificity while measuring blood pressure.
Reference:
>Simultaneous double-arm measurements and screening for Afib at the same time without extra efforts.
>Ideal tool for population screening and diagnosis for stroke and heart disease.
>Displays mean arterial pressure (MAP) and pulse pressure (PP).
>Measured values are provided separately and as the average.
Stergiou GS, Karpettas N, Protogerou A, Nasothimiou EG, & Kyriakidis M. Diagnostic accuracy of a home blood pressure monitor to detect atrial fibrillation. J Hum Hyperten 2009; 1–5
Wiesel J, Fitzig L, Herschman Y, & Messineo FC Detection of Atrial Fibrillation Using a Modified Microlife Blood Pressure Monitor. Am J Hypertens 2009; 848–852.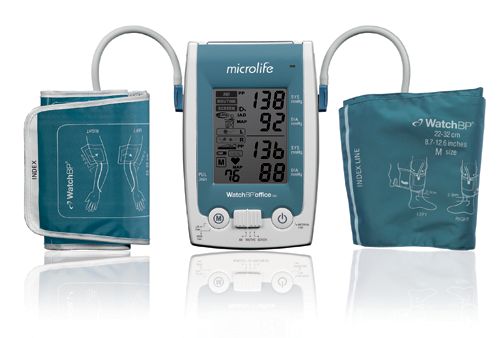 The WatchBP Office ABI is a validated professional automatic office blood pressure device which can assess the ankle brachial index (ABI) fast and accurate.
Ankle Brachial Index
The Ankle Brachial Index (ABI) is the ratio of the blood pressure in the lower legs to the blood pressure in the arms. Blood pressure that is lower in the leg than in the arm indicates blocked arteries (peripheral artery disease) The ankle–brachial index represents a simple, reliable method for diagnosing peripheral arterial disease .
WatchBP Office ABI
At present, ABI is commonly determined with a Doppler device. However, measurement with a Doppler machine is very time consuming and requires skills from the observer. The WatchBP Office improves and eases the screening of peripheral vascular diseases Microlife has developed the WatchBP Office ABI. With this validated device the ABI can be determined accurately and significantly faster than with the Doppler machine. Another advantage of the WatchBP Office ABI as compared to the Doppler Machine is that measurements are performed simultaneously and the method is much less influenced by the observer.
Ultimate cardiovascular screening device
Although the accent of the WatchBP Office ABI lies on the ankle brachial measurement the WatchBP Office ABI has more tools for screening important cardiovascular risk factors. Like the WatchBP Office and WatchBP Office Afib the device is delivered with double cuffs so that simultaneous double arm measurements can be performed for the screening inter arm differences. When the device is used in the Screen mode Atrial fibrillation can be detected when present.
Grenon SM, Gagnon JHsiang Y. Video in clinical medicine. Ankle-brachial index for assessment of peripheral arterial disease.N Engl J Med 2009; 361: e40.
Anastasios Kollias AX, Evagelos Dimakakos, Athanase Protogerou, George S. Stergiou.Automated oscillometric determination of the ankle-brachial index versus Doppler.Abstract ESH 2010.